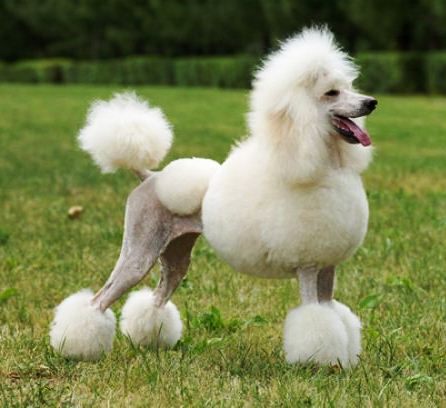 Poodle grooming can be a daunting task, but a necessary part of owning this particular breed. Well-groomed poodles have healthier skin and coats and grooming also helps prevent health problems.
A poodle's hair never stops growing, so a full clipping is necessary every six to eight weeks. If you can afford it, it may be best to pay someone else to groom your poodle. The steps involved can be labor intensive and it is sometimes best left to a professional.
Poodle Ears
Poodles grow a lot of hair in their ears which must be plucked out to avoid moisture getting trapped in the ear canal and causing yeast to grow and ear infections. This is something that you can do yourself or have your groomer do it. For more info on how to do this yourself try watching some Youtube videos on the process. It is very easy.
Giving your Poodle a Bath: You can bathe your poodle as frequently as once in a week. Fill a tub with warm water and allow his/her coat to saturate thoroughly, making sure that it is wet right up to the skin. Since poodles were bred to be water dogs, their coat is very dense, hence, this may take some time. Then, using a mild shampoo.. I personally use a baby shampoo only because it is less expensive then some of the "dog shampoos" and it is very mild as well as tear free.
Bathe and rinse your poodle thoroughly, finish off by using a conditioner for dogs. Next, towel dry your poodle, removing the excess moisture, and then use a blow dryer to dry them off, be careful not to use the blow dryer too close, or it may burn their skin. Since poodles are water dogs they naturally shed water so it does take some extra effort to get the coat completely wet.
Make sure to rinse the shampoo out of your poodles coat thoroughly. Any leftover residue can be irritating to your poodles skin. After the bath you can let them air dry for a curly look, or brush out the hair while blow-drying to give the coat a more fluffy look. While blow-drying, use a slicker brush gently.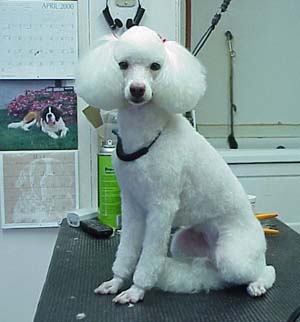 Choosing a Groomer:  Choose your groomer carefully and take advice from other poodle owners in your area. You might want to consider scooping out different breeders in the area. Visit their shops without your dog and pay attention to how the facility is managed. Look for a clean shop and a groomer with a gentle hand and manner.  I've found that most groomers charge between $60-$80 to give my poodles a basic clip but prices do vary depending on where you live and the groomer you choose.
To maintain your poodle's cut between visits, you will need some quality dog grooming tools. Your groomer can often purchase professional tools for you at a discount, or you can find quality tools at a good pet store or at a dog show.
You will need a high quality pair of clippers and scissors. Keep your clippers in top working condition by cleaning the blades and oiling them regularly. Dull blades can scrape the skin of your poodle and cause clipper burn. Look for a pair of clippers that have a many blades, this way you can rotate the blades during the grooming session if need be.
You will also need quality brushes and combs to maintain your poodle's cut between grooming sessions. Your dog should be well brushed at least twice a week, if not daily.
Even though poodles don't shed as much as other dogs, they do lose hair. That hair remains in the dog's coat until you brush it out. Brushing will also keep your poodle's coat shiny by distributing the skin's natural oils.
Ask your groomer for brush recommendations, as the right brush will depend on what type of cut your poodle has. Bi-weekly brushing sessions can be a great way to bond with your dog. Gentle but vigorous brushing will make your dog feel good and increase circulation in the skin.
Grooming Blade Numbers
You select the blade number according to how long you want to leave the coat. The lower the blade number, the longer the hair will be. For example, a #5 blade will leave a hair length of 1/4″, while a #30 blade will leave a mere 1/100″. A #10 is one of the most commonly used blades because it works well for trimming the body of most breeds. Other blades that work well with most breeds include the #15, #5, and #7 blades. For slightly matted hair use a #5, for heavy or very matted coats select a size #7, and for pads use a #15.
Visit allpoodleinfo.com for more info on Poodle grooming